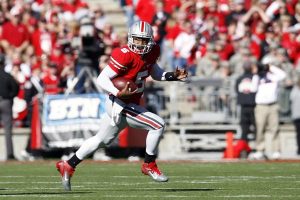 From BigTen.org:
A two-time Big Ten Freshman of the Week honoree, Miller is the seventh Ohio State player to take home the conference's Freshman of the Year accolade. The quarterback played in 11 games for the Buckeyes and started the team's last nine games. Miller finished the regular season ranked among the conference's top 10 in total offense with 11 passing and seven rushing touchdowns to go with 1,692 total yards.
Congratulations Braxton! Couldn't have happened to a nicer guy.
Photo courtesy of Ohio State Athletics Department.