The Huber Heights Farmer's Market is open for business, every Saturday from 9 a.m. to 2 p.m. and Tuesday afternoons from 3:30 p.m. to 7:30 p.m.  I got great little haul of BBQ sauces from the Spicey Rooster BBQ- delicious! My favorite was the Raspberry Steak Sauce.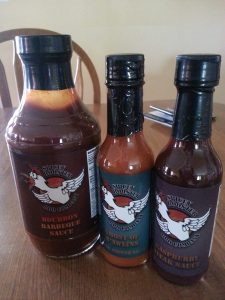 An incomplete list of vendors give you some idea of what to expect:
Miami Valley Spice Traders
Spices, Rubs, Teas and more!
National Trail Family Farms
Fresh Eggs, Meats, cheese, Baked Goods
Big Sky Bread Company
Rustic Artisan Bread and baked goods.
A Bit A Bite
Of SalsaHomemade Salsa
Muddy Truck
PatchFresh Produce
Twin Creek Apiaries
Honey Products
Nashville Farms
Fresh Produce and more!
Triple H Nursery