Real Estate 101- "Get it in writing."
There is a process for buying a home. The Spark Notes version goes like this: you find a Realtor, you get preapproved for a loan, you find a home, you make an offer, you negotiate the offer, you do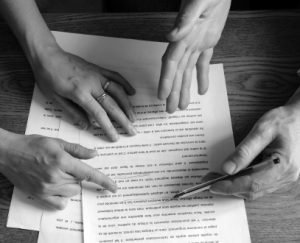 inspections, negotiate repairs, get an appraisal, and you close on the home. Each step of the way requires its own finesse and has its own potential pitfalls and its own contracts. The contracts are legally binding documents, as in Legally. Binding. Documents. So we get everything in writing.
The New York Times had an article about a new phenomenon in some real estate markets called "shifting the goal post" where a buyer and seller might agree to a purchase price, verbally, only to have the seller raise the price before the contract is actually inked.  This doesn't happen so much in Dayton where while it's becoming a seller's market in some neighborhoods there is still a lot of inventory, however in hot markets buyers can expect to pay more than the asking price. But regardless of the market, you've got to get the terms in writing.
A real estate deal, like any other business transaction, isn't ironclad until signatures wind up on a contract, said Tom Le of the Corcoran Group, the seller's broker, who defended his clients' right to get the highest possible price for their unit, even if it left some raw feelings.
We are seeing some foreclosures are selling for more than asking price, but those are not the transactions that you have to worry about getting things in writing, it's the individual sellers who have their own money tied up in the home.
"… after watching home values plummet over the last few years, sellers finally have relief. "They've been scraping by for years just to get to this point… " said Mr. Le ".
Once an initial offer is made, we often negotiate the specific terms of an offer via email or even verbally, but once buyer and seller come to a meeting of the minds, it is of the utmost importance to act quickly to get all the signatures on the contract. Back in ye olden days (way back in 2004) we used to drive hither and yon in order to meet face to face with our clients and get each contractual change initialed on the contract and while now we use electronic signatures, scanners, and email, the truth that was drummed into my head back then is still the truth today, "It ain't a valid contract 'til you get it in writing."
Looking for a home for sale in Dayton? Call me, Theresa Lussier, THE HOME GROUP REALTY, 937-478-7781., and let's get started!