This is an idea that is made for Dayton OH, and the Rustbelt cities like it. Start at Dayton Works Plus, which is a job-training program that teaches construction techniques to workers who are deconstructing our abandoned buildings and resells the salvaged pieces through the Architectural Reuse Company (ARC).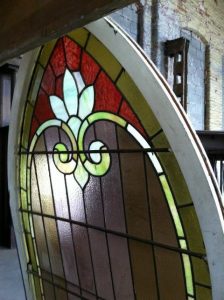 Dayton Ohio's deconstruction program has been going on for a few years now, but the reuse store is having a grand opening this Saturday, April 20.
The ARC website explains their work:
We have to date, recycled more than 250,000 pounds of metals, sold in excess of 111,807 board feet of salvaged lumber, and are currently diverting on average as much as 80% of the materials from a construction and demolition landfills by using green deconstruction. ARC has trained and employed 49 disadvantaged individuals for more than 50,000 hours through our social enterprise, Dayton Works Plus II.
The ARC store is located at 280 N. Findlay St. and will be open from 9a.m.-3pm this Saturday.  You can find out about the ARC Store Grand Opening at the Architectural Reuse Company website.