The FHA 203(k) loan is a great way to get owner occupants into distressed homes by allowing them to finance both the mortgage and the renovations on the home, into a single loan with a single closing ("owner occupant" is real estate speak for a home owner who is going to use that home as a main residence, as opposed to an investor who is purchasing a home for a rental). These 203(k)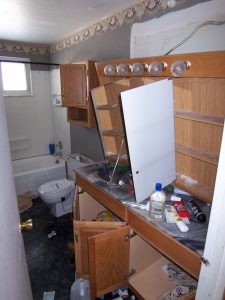 renovation loans are especially useful for someone looking for homes in first-tier Dayton suburbs like Centerville, Kettering, Englewood, Trotwood, Huber Heights, Fairborn, Riverside, Beavercreek, or the historic districts in Dayton. This loan is offered with a 3.5% down payment and can not only finance the purchase price, but also finance the renovations or updates to the home. But what about investors?
The FHA 203(k) loan is an old program, although it is historically under-used for owner occupants as other options were available and more appealing. Investors used the program to pay for the cost of their homes and repairs, but in the mid-90's investors were shut out of this program due to fraud and abuse; from a recent article at Lowe's Inside Out Newsletter:
For example, auditors found one investment group in Georgia falsified settlement statements to indicate an average cost of $123,000 apiece for houses it purchased. But, in reality, the investors had paid only about $80,000 per house on average, and pocketed a $1.14 million profit that triggered $966,000 in losses to FHA's general insurance fund.

In another case, Florida investors told FHA they paid $1.25 million for 52 houses to be renovated. In fact, the purchase was a quick-flip with fraudulently high appraisals. The investors actually had closed on the houses for just $715,000 hours earlier, netting a $533,000 profit — again endangering FHA's insurance funds.

In many of the investor-related fraud cases, auditors said, "inside dealing" was involved, with settlement agents, appraisers, loan officers and realty agents making money illegally. Critics in Congress charged that the 203(k) program's design flaws were part of the reason investors found it so easy to steal money from the government, especially FHA's ceding administrative control to lenders to handle much of the application, underwriting and approval process.
Today, the investment market has changed and I am seeing smaller investors enter the market. These are folks who are using investments as supplemental income, investors who are purchasing a few properties for family members who have fallen on hard times, and local folks who are concerned about their own neighborhoods and want to maintain the homes around them. These are solid community members who are looking for ways to make their world a little better and would be good candidates for the FHA 203(k) loan, in fact, according to the Lowe's article, the Mortgage Bankers Association has put forward their recommendations to prevent abuses of the past from being repeated:
Restrict investor participation to essentially "moms and pops" who plan to have an ongoing stake in the property and post-rehab rental activities.
Limit the number of properties per borrower to four single-family units. "Much of the waste, fraud and abuse to the program in the 1990s" was connected with investors "financing multiple (203(k)) properties," sometimes 20 or more units, MBA said.
Charge higher risk-based premiums for 203(k) investor loans than on other FHA-insured products, something that was not done during the 1990s.
Require qualified consultants to monitor the rehab of all 203(k) loans, including the standard and streamline versions of the program now used by individual buyers.
But for the time being, investors are shut out of the FHA 203(k) loan so it's all yours. 3.5% down and less-than-stellar credit? This could be the loan for you. If you want to find out how this loan could help you purchase and renovate the home of your dreams, contact me- Teri Lussier, THE HOME GROUP REALTY, 937-478-7781 and let's talk about your options (and ask me how I can get you 10% off your next Lowe's purchase)!