The Midwesterner is the classic brick ranch home that most people have in mind when they think about Huber homes. If you drive into the southern part of Huber Heights, that's the home you are most likely to see, with its large picture window on one side of the door, and two horizontal windows tucked under the roof on the other side of the front door. It's a three bedroom, two bath home but there are two different floor plans- one is a walk-thru model and the other is not. As you can imagine, by now many of these homes have been reconfigured and updated and changed over time to suit the needs of families who have lived in them throughout the years. But this model remains popular and can be a nice floor plan for many buyers. Let's take a look at why.
I realize they are ubiquitous in Huber Heights and for that reason alone many buyers refuse to look at them, but the floor plan itself is very practical and works nicely for a lot of first time home buyers, small families, down-sizing seniors, and people with disabilities. There is a certain easy flow in these homes and they can be quite comfortable. They are also well-suited for inexpensive upgrades to make them reflective of the owner's personal style, and they can be relatively easy to convert to meet ADA compliance. You can age-in-place with the Midwesterner model home, you can affordably enter the world of home ownership in the Midwesterner, and you can hone your DIY skills in the Midwesterner model- they are very forgiving.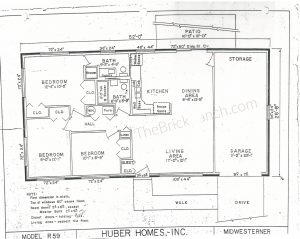 One of the most common changes I see is to relocate the washer and dryer hookups. If it's not the walk-thru model, originally the washer and dryer would have been in the kitchen. When these homes were built, not having to haul laundry up and down the basement steps would have been a real game changer. It was a welcome relief from doing laundry in the dark, dank unfinished basement of homes built before the 1950s. Lifestyles change and most modern families do not want the laundry in the kitchen, although I once had some young well-traveled clients who thought it was very European to have the laundry located there and it wasn't odd to them at all. For elderly home-owners or people with certain disabilities, a kitchen laundry might be very convenient, and there are European style washer/dryer combo units finally available in the US that would work well in this home, smaller stackable units would tuck in the kitchen nicely as well. If you do want to relocate the washer and dryer, the most common way to do it is to carve out a laundry room from the back of the garage. Interior storage is a problem in many of the Huber home ranch models and most homeowners use the garage as storage rather than for a car anyway, so creating a small laundry room in the garage is not a problem for some buyers.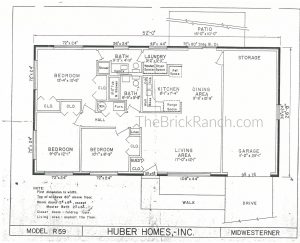 Speaking of the garage, another common change we see with the Huber Midwesterner model is to finish the garage into livable space, as seen in the photo. While these garage conversions often become a family room, I've seen them converted to bedrooms, offices, or hobby rooms with organized storage space. This is a very easy way to expand the living area of the home. By the way, if you want to see photos of the interior of the Midwesterner model, you can do a search on Zillow in the 45424 zip code by square foot. The Midwesterner model home is 1080 sq ft, and with the standard one car garage converted to living space, these homes are approximately 1404 sq ft. There are other models that close to the same square footage, so make sure you are looking for the Midwestern 3 beds, 2 baths.
So what about those horizontal windows under the roof? My younger clients in particular find these windows very strange. They are accustomed to either older homes that often have large windows that are nearly floor to ceiling, or modern construction that have windows that are at about waist-level and up. The horizontal windows are a classic mid-century design feature that afford the home owner both sunlight and privacy. One of my clients loves them because he doesn't have to use curtains and can walk around his own home in his skivvies without worrying about the neighbors! You certainly can't do that in many other home styles. It's all in your perspective.
To see a larger images of these floor plans, click here.
Ready to see one of these classic mid-century modest ranch homes for yourself? I would be thrilled to help you find the perfect Huber ranch home. Just give me a call and let's get started.
Looking to sell a home in Huber Heights? I would be happy to discuss simple and affordable ways for you to prepare your home to get the most money in the quickest time, with the least amount of hassle. Contact me today to find out more!