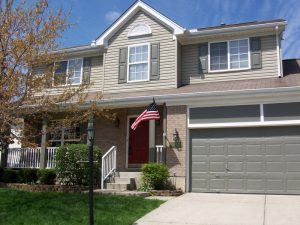 An inner ring suburb of Dayton OH, Huber Heights is "the world's largest community of brick homes". Known for it's affordable MCM brick ranch homes, Huber Heights has recently seen growth in more upscale subdivisions and home styles, expanding its housing stock in both price and lifestyle options.
Huber Heights is northeast of Dayton, within a ten minute drive to Wright-Patterson Air Force Base, and close to downtown Dayton, Wright State University, Miami Valley Hospital, and Grandview Hospital.
Ranch style homes built by Charles Huber offer solid brick or brick/siding construction. Currently, you can expect to pay between $45,000 for a foreclosed or HUD-owned fixer in Huber Heights, and $95,000 for a larger updated Huber ranch home. Newer or two-story Huber homes in the area referred to as "North of I-70" typically run between $125,000 and $185,000 depending on size and condition.
Homes in Forest Ridge are two-story bi-, tri-, and quad-level sytles that put a large square footage on a small building foot print. These are currently priced from $95,000 to $150,000.
Newer developments in Huber Heights include the following communities:
Callamere Farms,
Heathermere,
The Reserve at the Fairways,
Villas at Benchrock,
Park Towne,
Elysian Fields,
Carriage Trails,
The Oakes of Huber Heights.
If you'd like to see any of these communities or talk about building a new home, please give me a call, Theresa Lussier, THE HOME GROUP REALTY, 937-478-7781, and I can help you through the process.