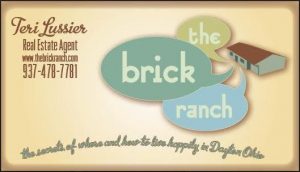 TheBrickRanch.com is one Realtor's thoughts, views, opinions about real estate and real estate in Huber Heights Ohio. It's my way of communicating with the world, no more, but certainly no less. I take great pride in this site and the information presented here.
Fair Housing Statement:
I support the principles of the Fair Housing Act (Title VIII of the Civil Rights Act of 1968), as amended, which generally prohibits discrimination in the sale, rental, and financing of dwellings, and in other housing-related transactions, based on race, color, national origin, religion, sex, familial status (including children under the age of 18 living with parents of legal custodians, pregnant women, and people securing custody of children under the age of 18), and handicap (disability). In addition, I fully support Ohio's inclusion of military status as protected, and the City of Dayton's anti-discriminatory laws for members of LGBT community. As an adjunct to the foregoing commitment, I actively promote, and am committed to, creating and fostering an environment of diversity throughout my business, and view such a concept as a critical component to my on-going success.
Legal:
TheBrickRanch.com is the sole property of Theresa Lussier. While the owner has made every attempt to maintain the accuracy of the content found here, I make no claim, promise, or guarantee about it. If you find an error, please let me know.
By accessing this information, you assume full responsibility for the use of the information and understand that the owner does not imply or express any warranty for the information.
All information and intellectual data contained on this site is the sole property of the owner and may be copy written. Recreation of this material is not permitted without express written permission by the owner.
The material contained on this site is my own and does not necessarily reflect opinions of The Home Group Realty Co and/ or any other agent associated with The Home Group Realty Co.
If you find mistakes, please feel free to contact me to correct errors: Teri Lussier, 937-343-1411, or Teri(at)TheBrickRanch(dot)com.