New ideas for fun pop up in the Dayton area all the time, and one of the best things about Dayton is that we are small enough that people can actually make them happen. This year's new idea is Canoegrass. It's a river festival, camping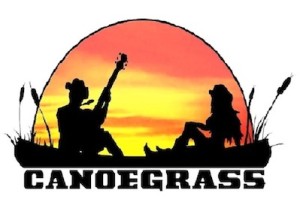 trip, goof-off-like-a-kid weekend.
Check it out, from the Canoegrass website:
Canoegrass is a weekend celebration of bluegrass music, the best of the human spirit and river life. The banks of the Great Miami River will come alive with the best entertainers in the region.  This isn't your ordinary festival. Get ready to get wet, wild and jam all weekend long.  The best seat in the house just may be from a canoe or tube!

Bring a friend, a cooler, camp and celebrate the river life at Adventures on the Great Miami.  By the end of weekend, everyone will be yelling "Take a Drink a Beer"

Weekend Highlights include:

Camping
Live Music – Bluegrass, Americana, Roots, basically anything that sounds good next to a campfire and makes you want to dance
Floating stage for Tube Jam
Canoe and Kayak Trips with live music
Canoe Jousting
Giant slip and slide
Rope Swing
Community Campfires
Camp and River Jam Sessions
Canoe Cooler Happy Hours

Paddle faster I hear bluegrass music playing!
Adventures on the Great Miami is located 1995 Ross Road in Tipp City, and is accessible to the Great Miami River Bikeway, which can get you to Tipp City or Taylorsville Metro Park. What a fun way to spend the weekend! Check out all the details at the Canoegrass website.